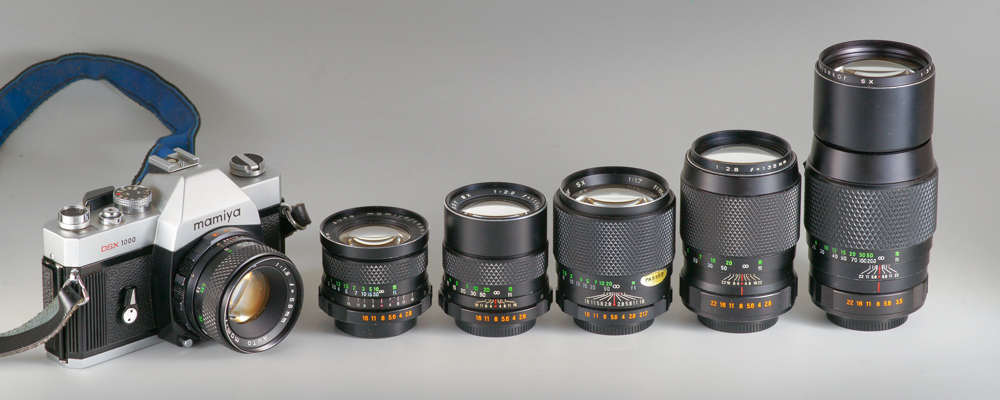 Mamiya DSX 1000 SLR with the SX lenses 1.8/55mm (on camera), 2.8/28mm, 2.8/105mm, 1.7/85mm, 2.8/135mm and 3.5/200mm.
MamiiyaSekor CS lenses were made in a focal lengths from 14mm fisheye to 800mm super tele. Totally 20 different lenses includin one zoom and one macro lens were built - it is said these lenses were built by Mamiya itself, and not outsorced as some of the earlier M42 lenses for the Mamiya TL / DTL series. I have tested six of them, shown above. Most of them are as good or even better than the contemporary Canon FD / Konica AR / Minolta MC / Nikon AI / Asahi-Pentax and even Zeiss CY lenses.
The SX 2.8/28mm, 1.8/55mm, 2.8/135mm and 3.5/200mm as well as the 90-230mm zoom are rather common and easy to find (about USD 50). The 2.8/35mm, the 1.4/55mm, the 2.8/60mm Macro and the short teles 2.8/85mm, 2.8/100mm and 2.8/105mm are more expensive (around 100-150 USD). All other SX lenses (such as the 14mm Fisheye, the 4/21mm superwide, the 1.7/85mm portrait and the 5.6/300mm, 6.3/400mm, 8/600 and 8/800 tele lenses) are quite expensive - roughly in the 300 - 600 USD range.

Even though these lenses are M42 lenses, their adaption to todays mirrorless cameras is not as stratghtforward as one might think:

1) The SX lenses have no manual aperture mode. You need to get a M42 adapter with an internal lip / ring which pushes the aperture plunger into the lens, thus allowing manual operation of the aperture

2) The aperture ring has a minute pin on its inside. This pin was meant to communicate the aperture value to the camera (open metering system!), but now it interferes with most of the M42 adapters I know. THerefore I have machined a common M42 adapter to allow for enough space for the pin; there's no interference possible any more